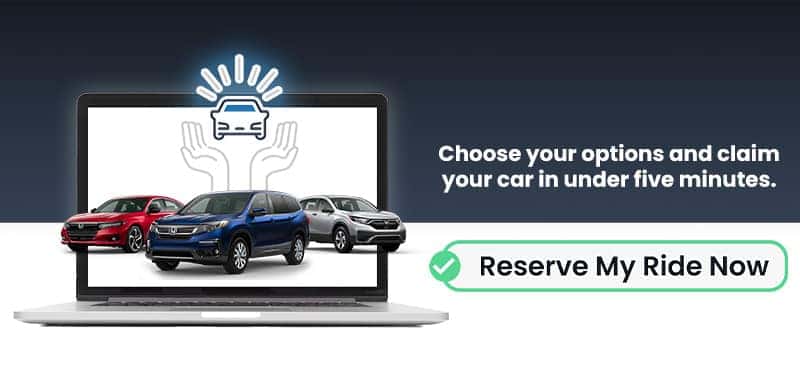 Reserve Your Ride Now
Choose your options and claim your car in under five minutes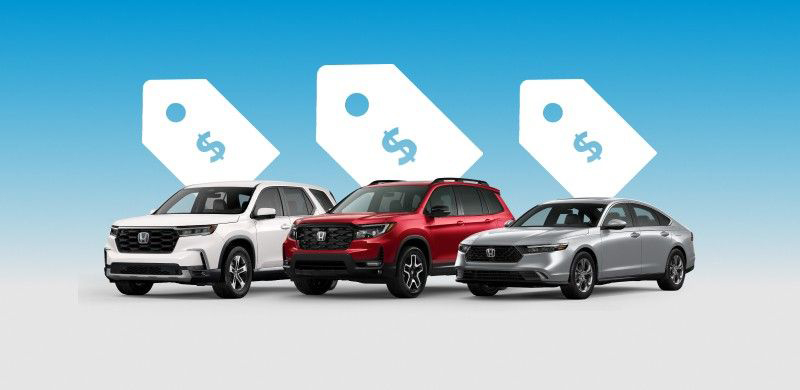 Current Offers
See this month's featured current offers going on now on new Honda vehicles.
Our Reviews
This was my first time to Eskridge and it was a really enjoyable experience. Juan was our salesman and he was outstanding. No pressure but very helpful. He also told us about a wonderful Mexican restaurant called Las Banditas in Moore that was outstanding. Woody was extremely friendly as was Byron in financing. I will return the next time I need a new vehicle.
Byron Flores did an awesome job selling my son his first car. His professionalism and helpfulness were wonderful. We will return for our next purchase for sure.
Bought my 2007 Volvo Volkswagen from Hal Elliot with Excellent service!! Great fast fun experience
Alex Perez and Emilio Gatewood were absolutely amazing!!! Best experience I've ever had buying a vehicle!!!!! I will be back for sure!!!
We worked with Juan Velasco on a new Honda Passport to replace my Honda Accord - we needed a little extra space for the car seats and all wheel drive while we were at it. I know this is a crazy time to buy a car - but Juan made it easy and honored all of his commitments. Further, there was ZERO pressure to get the deal done. They honored an excellent trade quote and didn't try to induce any gimmicks. Straight forward and honest and they had the exact car I was looking for. Yeah, had to get some accessories but I am still walking away feeling like I got a good and fair deal all things considered. I was treated with respect and that matters a lot. Juan made the experience top notch and even made a video of the car for my wife and family to look at from the comfort of home. Great job.
Five stars to Scott Derrick, salesman, and also to Emilio Gatewood, finance. Both worked to find our what we wanted and how they could help us achieve it. With Scott, we felt no pressure outside of a willingness to help. Emilio helped us understand different finance options to secure what fit us the best.
I WANT TO GIVE A SHOUT OUT TO SCOTT DERRICK. He deserves a 5+ star rating for sure. He is very knowledgeable and has a lot of experience in the auto sales. Scott was very thorough and answered all my questions. I never felt pressured or uneasy. As everyone knows currently there is a shortage of new cars. Because of this it took a little longer than I was hoping to purchase a vehicle. Scott never forgot about me. It was a few months since we had spoken and then I received a call from him asking if "I was ready to purchase that new Honda." He was receiving a car from the factory. After that phone call it was only about a week and I was in his office closing the deal. Scott went ABOVE and BEYOND and never stopped working on getting me a car. Because of him I am now a happy and excited owner of a brand new Honda Accord. Thank you Scott Derrick for making my car buying experience a great one! I wouldn't want to purchase a vehicle from anyone else.
We finalized our car purchase yesterday and wanted to take the time to share our experience. This was the most positive car buying process we have been a part of. From beginning to end Eskridge was professional, kind, and helpful. We shopped around at all of the local dealers, and we are thankful that we chose to purchase from Eskridge. The sales person, Jimmy Cannon, went above and beyond to make sure we were satisfied and that we understood the features of the car. The finance employee, Emilio, was top notch and made us feel very comfortable. There was no pressure to sell a car or warranty package at any time during the process. We highly recommend this dealership. Thank you, Eskridge!
This was my first time working with Eskridge Honda & it was a pleasant experience. My salesman was Scott Derrick. He really knows his cars & is ready to help you. He listens to your requests & doesn't pressure you. I recommend this dealership. I am hoping my service department experience will be as wonderful as the sales side when it is time for service.
Because of Scott Derrick, we had the best car buying experience we have ever had hands down. Scott was patient, friendly, helpful, and professional. He never made us feel pressured. He was extremely knowledgeable about the cars we wanted to ask about and gave us great advice. After purchasing our Pilot he took the time to go over all the gadgets and buttons with us (which didn't happen when i bought my Jeep at the dealership across from Tinker). I will be an Eskridge customer for life because of Scott and the entire sales experience. I highly recommend Eskridge Honda to anyone looking for a vehicle.
Our car buying experience was EXCEPTIONAL with Scott Derrick! Scott was super patient, friendly, helpful, and more importantly, very professional and knowledgeable! Straight forward about the purchase. Fantastic experience!
My family has bought several cars from Eskridge and have no issues. I decided I'd go ahead and buy my first car from Eskridge and they did not disappoint! Joshua was extremely friendly and helpful. I'm very happy with my purchase and we'll continue to do our business with Eskridge in the future!
This was our third car purchase at Eskridge. Scott has always been an excellent salesman and thoroughly explained all the features on the vehicles. He is eager to answer any questions about the new technology also. He sure knows how to treat a buyer and they want to return!
Brought in my Honda to service and Josh Phillips helped me, they checked my car over within 20-30 mins! They fixed the bottom splash guard that was hanging down and even checked my air pressure in my tires and fluid levels. They were extremely efficient and kind and made service recommendations, but we not pushy. They made the process so comfortable and easy. Thank you!
I just bought my first car at Honda Eskridge. Scott Derrick made the entire experience from the moment I stepped on the lot until I drove off in my Honda Accord such a delight. He was super helpful, helped me find a car in my budget, and he listened to what I wanted. There was no pressure and he gave me a generous deal on my trade. I will recommend this dealership and especially Scott to all my friends and family.
Shout out of thanks for our sales representative Scott Derrick who did a great job taking care of my wife and I in purchasing a new vehicle. Very informative, courteous and personable in every aspect of the process. Thanks Scott for meeting with us early and helping expedite the process so smoothly. We were able to make it "on time" for the Birthday party of our grandson which was 2 hours away from Eskridge. Nice to have people that respect your situation and following through with such grace and professionalism.
Scott Derrick helped me from start to finish. Brandon Mulligan handled the finance portion. I called Scott in the morning to let him know what I was looking for and the details of my trade-in (2014 CR-V). Scott put his hands on the vehicle I was looking for and let me know that it was available. He let me know what paperwork to bring in to the dealership. Scott was knowledgeable and happy to explain all the features of my 2018 Honda Ridgeline RTL-E. The entire process was ZERO pressure. Very professional performance by all involved! Thanks for the assistance.
If you want a new honda just come in and ask for james M. Levine funny and detail guy just ask any question and he will answer right away.
This was the third dealership I went to in one day. I just wish I had went to them the first time. They gave me the most for my trade in and best deal on a brand new 2017 Honda Accord. JC was my salesperson and went above and beyond to help me find the perfect car for the best price.
in 2016 it is hard to find good customer service anywhere! Eskridge was worth our 72 mile drive for wonderful service. Steve and Larry were helpful and pleasant. I would highly recommend Eskridge Honda to anyone in the market for a vehicle. I am a military wife and have traveled quite a bit, this is by far the most pleasant car buying experience I have had in over 22 years. I hope you give them a chance.
Definitely would recommend to anyone looking for a new/used vehicle. Looked on line found the vehicle that I wanted and Matt had it ready to test drive. Hassle free. Thanks
Once again we bought a new car at Eskridge Honda and couldn't be happier with the experience, our knowledgeable salesperson gave us his undivided attention from the first moment to the very end when he explained every detail and button on the operation of our new vehicle, hooked up our hands free which is great, all I did was tell him exactly what I wanted and he had the car waiting for me when I arrived at the dealership, I was preapproved for financing and everything was painless, thanks Scott & Kim for taking care of us, also we appreciate our fantastic tint job.
I went in to have my Honda Accord serviced and my Husband and I were just looking around the car lot while we waited when my husband seen a Dodge Ram he was interested in. I had a previous experience with salesman Harry Lorenzen (I have bought 2 cars from Eskridge Honda this is my 3rd vehicle) They are VERY nice people, They bent over backwards to make sure our visit was a very pleasant experience. Everytime you pass an employee they greet you and smile! Our finance specialist Eric Poston was extremely nice man and worked on our loan for our vehicle as if we were his only customer in other words he did not rush us through anything. Eric took his time and explained everything and gave us all of our options. I am very pleased with our experience and would highly recommend Eskridge Honda to anyone looking for a new or used vehicle or to service your current vehicle.
Normally I avoid dealerships when buying a used car. Eskridge had a BMW Z3 for sale and I commented on this to a co-worker who spoke glowingly of the dealership so I decided to check them out. Long story short, Larry Harper in Internet Sales did what I consider an outstanding job of coordinating all the details and getting the car checked out and brought up to 100% by the dealership. No xx, no hassle, just outstanding customer service. Eric Posten, the finance director, handled the paperwork personally. I would recommend this dealer without hesitation.
The customer service I received at Eskridge Honda was great. From the salesman to the finance manager, I was treated fairly and honestly the whole time. I would highly recommend Eskridge Honda and I would use them again for my next car purchase.

Welcome to Eskridge Honda
When you choose this dealership, you choose a lifelong partnership with your dealer. We are committed to helping you find the right vehicle for you as well as preserving the performance, safety, reliability, and long-term value of your vehicle purchase. You can count on this dealership for an opulent service experience from the moment you enter our showroom. Visit us today at our address — our seasoned professionals are ready to answer any questions you may have.
This dealership strives to provide the best vehicles and service possible to the dealership area. Or experienced sales and service staff is available to help you find and maintain your next vehicle. Visit our showroom today and let us help you find your dream vehicle!
Get Directions To Eskridge Honda